This was one of those tragic cases of neglecting to read the book before watching the movie, and so I've been waiting YEARS to forget enough of the details to pick up Andy Weir's The Martian– this year, the time finally seemed right.
In the novel, Mark Watney and 5 other crew members are on a 31-day NASA mission on Mars. When a sudden storm cuts their stay short, Watney is left behind in the evacuation, believed dead. When he regains consciousness, he finds himself in dire circumstances, injured, running out of oxygen, his suit breached, his contact with Earth severed, and the exit spacecraft gone along with all of his colleagues. But Watney isn't ready to give up. If he can find a way to stretch the crew's 31 days of supplies for a couple of years and travel to the site of the next Mars mission, maybe he can hitch a ride back home.  And so begins an interplanetary quest for survival.
"The answer is: I don't know. I suppose I'll think of something. Or die."
I hated math and science classes in school. I managed to avoid calculus and chemistry completely in both high school and college so I'm as amazed as the next person that I found a story so rooted in science to be such a good time. I can't speak at all for the accuracy of the numbers and equations and details in this book, but Weir states in an author's note that people in the know mostly agree with The Martian's accuracy, and I'm inclined to believe that. It turned out to be a slower read than I expected despite the easy-going first person narration and constant threat of death, because I'm not a reader who can skim sentences/passages without comprehending them- I didn't pull out my calculator to double check Watney's math, but I did take the time to absorb the information and understand how he was getting from point A to point B. The good news is that The Martian is a science-heavy book written for the layperson, and there's enough of a narrative behind the technicalities that I can see why this book appeals to science buffs and novices alike.
What worked best for me, essentially, is the puzzle of it. Having already a sense of the basic story line and quickly realizing that the film didn't capture all the details, what kept my attention in this book was a constant curiosity about how Watney was going to solve each of the problems Mars throws his way. Not enough water? No worries, he'll make some. Accidentally create a bomb? No worries, he can defuse that. Get stuck in a sandstorm that makes recharging his vital power supply impossible? No worries, he'll chart his way out just in time. But I would have no idea how to do any of those things, which made his solutions fascinating to discover. Watney's light tone as a narrator makes this dire situation surprisingly fun, and also prevents the reader from worrying too much about him dying amidst all of these setbacks. Until the final sequence is in motion, The Martian is more a tale of when he'll escape, not an if. Thus, the method becomes the most interesting element.
Actually, as readable as Watney's log entries are, the parts of the book that held my attention best were the glimpses of the other characters trying to help Watney, watching him via satellite and worrying about launch deadlines while they have very little communication with him. There isn't much of a psychological exploration in this book, but most of it comes through in these third-person sections. Here, we can see just how alone Watney is even though it seems all of Earth is following his progress. We see how all of the technology and intelligence available at NASA is limited in its ability to help him and how frustrating that can be. We see leaders and captains making expensive, life-or-death decisions based on how their astronauts may be affected mentally.
" 'What must it be like?' he pondered. 'He's stuck out there. He thinks he's totally alone and that we all gave up on him. What kind of effect does that have on a man's psychology?' "
But as much as I enjoyed The Martian, it wasn't quite a perfect read. As one of the laypeople, I appreciated the extent to which the science was painstakingly explained, but it didn't feel organic to the story. It's framed as Watney leaving a detailed log so that anyone who might eventually find it will know what happened to him, in case he doesn't survive. I had some difficulty believing someone with a low level of expertise was going to be the one to find Watney's log on Mars. Additionally, the simplification goes beyond Watney's circumstances and personality- we do see other characters and locations in the novel: the rest of Watney's crew and the high-ups at NASA mainly, and they all have a tendency of speaking to each other in a way that seems redundant to their perspectives, the dialogue obviously aimed toward the reader rather than realistic for the characters.
Even so, these insights into the team working on Earth and in orbit to bring Watney home were largely my favorite parts of the novel, mainly because Watney's humor didn't translate as well for me on the page as it originally did in the film.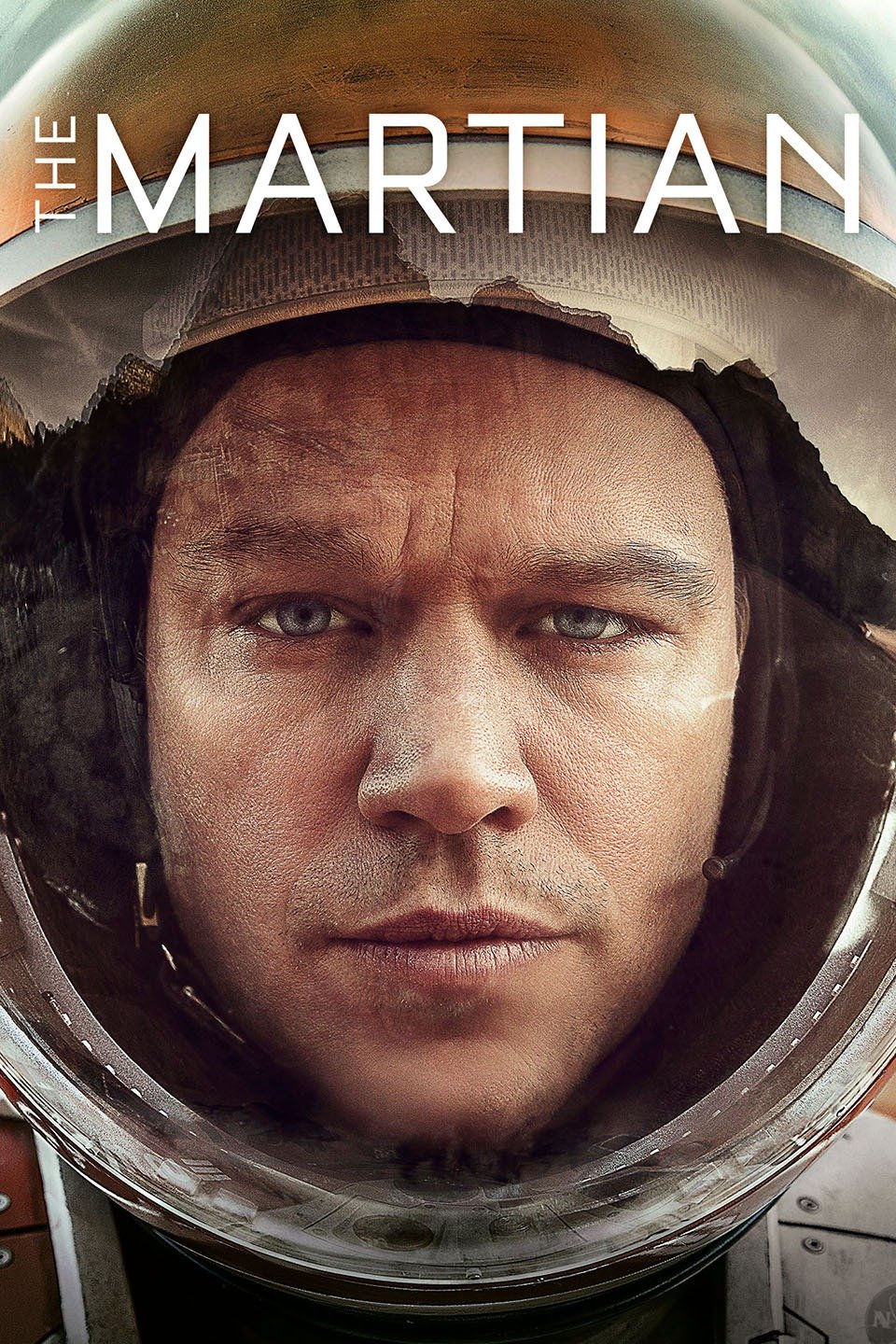 I remember liking Watney's personality a lot when I first watched the film (4 or 5 years ago), but it just wasn't coming across for me in the physical book. (A few people who knew I was reading this suggested the audio, but it's currently checked out from my library. I'll still look into that at least to sample it, but wasn't able to get to it in time to finish reading.) However, after reading the book, I rewatched the film (my second viewing ever), and was less charmed there too. So, perhaps the change was me and not the medium. I found the jokes rather man-ish, repetitive, and often focused on the wonders of duct tape or Watney's dislike of disco. There's a bit of a formula to it, every serious moment broken up with an irreverent comment about death, NASA's safety regulations, or one of his crew members. It didn't take long for this to feel forced, or at least, predictable. He would've gotten along well with my high school science teacher.
"Yes, of course duct tape works in a near-vacuum. Duct tape works anywhere. Duct tape is magic and should be worshiped."
But, humor aside, The Martian is still one of my favorite survival stories, both in print and film. I do think it's worth experiencing both mediums, but if you only go for one I'll add that the film goes more for emotional impact while the book goes for impressive scientific depth. You may find yourself more interested in the science than you expect!
My reaction: 4 out of 5 stars. I usually don't go for survival stories, because they seem a bit "if you've read one you've read them all" to me, but this one is pretty unique. At least, in my experience. Having seen the movie already, I did know the broad strokes of the narrative going in, but I still found myself pleasantly caught up in the minutiae. I'll definitely be reading Weir's Artemis at some point because I have a copy, but I've seen enough disappointed reviews that I'm not in a hurry to get to it.
The Literary Elephant